Eventbrite has ended its free services!
Eventbrite has been a go-to platform for event organizers, both big and small, for years. It's been a lifesaver for small business owners, event hosts, and community organizers. It offered free event registration services that helped bring people together. However, Eventbrite has decided to end its free services.
Before you hit the panic button or look for alternatives, let's take a closer look at why this might actually be a good thing for you.
In this blog post, we'll explore the ins and outs of Eventbrite's decision, why they made it, and how it could benefit you as an event organizer. Let's dive into the world of event registration with a fresh perspective.
Understanding Eventbrite's Free Services
Before we explore Eventbrite's decision to end its free services, let's see what its free services entailed.
Event Creation: Users can create and publish event listings for free. This included details such as event name, date, time, location, description, and ticket types.
Event Promotion: The Eventbrite's platform allows hosts to promote their events to a broad audience. They share event links on social media, embed registration widgets on websites, and leverage Eventbrite's built-in event discovery features.
Basic Ticketing: It was easy for hosts to create and distribute basic tickets for their events at no cost. This enabled attendees to register for events and receive electronic tickets via email.
Event Pages: Eventbrite provided free event pages where hosts could showcase event details, include images, and communicate important information to attendees.
Attendee Management: Event hosts could manage their attendee lists, track registrations, and view attendee contact information.
Mobile Access: Attendees and organizers could access event information and registration via Eventbrite's mobile app, available for free on iOS and Android devices.
Basic Analytics: Eventbrite offered basic analytics and reporting features to help event hosts track registrations and attendee engagement. This allowed hosts to gain insights into their event's performance.
Email Communications: Eventbrite enabled event hosts to send basic information like event updates, reminders, and announcements to registered attendees.
Event Discovery: With event discovery tools, users can explore and discover events in their area. This feature helped event hosts reach a broader audience.
The Limitations of Eventbrite's Free Services
Eventbrite's free plans were a godsend for small-scale events, charity fundraisers, and local gatherings. This enabled business owners and event hosts to start events without breaking the bank.
However, the free services came with a lot of limitations, especially for those whose audiences were fast growing. These limitations made users opt for paid plans for better features.
Here are the key limitations of Eventbrite's free services:
Limited Number of Attendees: Eventbrite's free plan often imposed restrictions on the number of attendees an event could manage. Once you reached this limit, you had to upgrade to a paid plan to accommodate more attendees.
Limited Features: Event hosts using the free plan had access to only basic event management features. This meant that certain advanced functionalities, such as custom branding, in-depth analytics, and integration with other tools, were not available.
Branding and Customization: Event hosts couldn't fully personalize the event pages to align with their branding and messaging.
Customer Support: While Eventbrite offered customer support for free plan users, response times and priority were often lower than those provided to paid plan users. This meant longer wait times for assistance.
Ticket Types and Pricing: The free plan offered limited flexibility in setting up ticket types, pricing structures, and discounts. Event organizers looking for more advanced ticketing options had to upgrade to a paid plan.
Integration Options: Integration with other tools and platforms, such as email marketing and customer relationship management (CRM) systems, was typically more limited for free plan users.
Ad-Free Events: Eventbrite's free plan sometimes included the display of Eventbrite ads on event pages, which could distract attendees or potentially redirect them away from the event page.
It is important to note that these limitations were in place to encourage event hosts to consider the benefits of upgrading to paid plans, which offered more features.
Why Did Eventbrite End Their Free Services?
The answer lies in the concept of business sustainability.
Eventbrite's decision to end its free services isn't a random move but a strategic one. Eventbrite recognized the need to ensure their long-term sustainability and growth. Just like any business, they have bills to pay and a team to support.
The following are reasons why Eventbrite changed its model:
To Prioritize Long-term Sustainability: As mentioned earlier, every business, including Eventbrite, must ensure its long-term survival. By discontinuing free services, Eventbrite aims to bolster its resources and enhance its platform continually. This means more support, better features, and a platform that evolves to meet your needs.
To Invest in Platform Improvement: Focusing on paid plans enables Eventbrite to invest in improving the platform's infrastructure, enhance customer support, and stay at the forefront of event hosting technology. This benefits event organizers by providing them with a better and more feature-rich tool.
Innovation: Sustainability requires constant innovation. Eventbrite's move allows them to invest in research and development, leading to new features and capabilities that can benefit users.
To Enhance User Experience: Eventbrite's paid plans offer a smoother and more efficient user experience. Faster response times from customer support and access to priority updates are valuable benefits for event organizers.
Benefits of the New Eventbrite's Pricings for Event Hosts
Eventbrite has made its changes. But what's in it for you? Let's dive into the benefits you can expect.
Enhanced Features and Benefits
With the shift towards paid plans, Eventbrite has upped its game. They're rolling out enhanced features that can make your event management smoother and more efficient.
Here are a few perks you can look forward to:
You have more flexibility when setting up ticket types, prices, and discounts, enabling you to maximize your revenue.
You can track registrations, sales, and attendee engagement to make data-driven decisions.
You can customize your event with your logo, colors, and voice to create a unique experience for your audience.
Integrate CRM and email marketing tools for promoting events with ease.
Improved User Experience
One of the most significant advantages of Eventbrite's paid plans is the enhanced user experience. With more resources dedicated to supporting paying customers, you can expect:
Faster Response Times: Say goodbye to long waits for customer support. Paid users typically receive faster assistance, ensuring your questions and concerns are addressed promptly.
Priority Access to Updates: As Eventbrite continues to evolve, paid users are usually the first to access new features and improvements.
Reliable Service: Paid plans often come with a service level agreement (SLA), guaranteeing a certain level of uptime and reliability for your events.
Now, you might be wondering about the cost. Let's break it down.
Eventbrite's Pricing Plans and Options
Eventbrite offers a range of pricing plans to cater to different needs and budgets. It offers three types of hosting plans: the flex, pro, and premium plans.
Eventbrite Flex
Eventbrite Flex allows the user to pay per event, access all marketing tools, and send 250 marketing emails per day. Organizers can have events of 25 or fewer for free. This plan also allows you to set up one-time events for 100, 250, or unlimited tickets at $9.99, $24.99, and $49.99 per event. Organizers won't be charged until they publish an event.
Eventbrite Pro
Eventbrite Pro allows you to host unlimited events with your monthly subscription. You have access to marketing tools and can send 10,000 emails daily. A monthly subscription for the pro plan starts at $29 for 100 tickets, $79 for 250 tickets, and $159 for unlimited tickets.
They also provide eligible non-profits with a 50% discount on Pro plans.
Eventbrite Premium
Eventbrite Premium includes all offers in the Pro plan, one-on-one consultation with event experts, and custom ticketing fees. It offers unlimited tickets.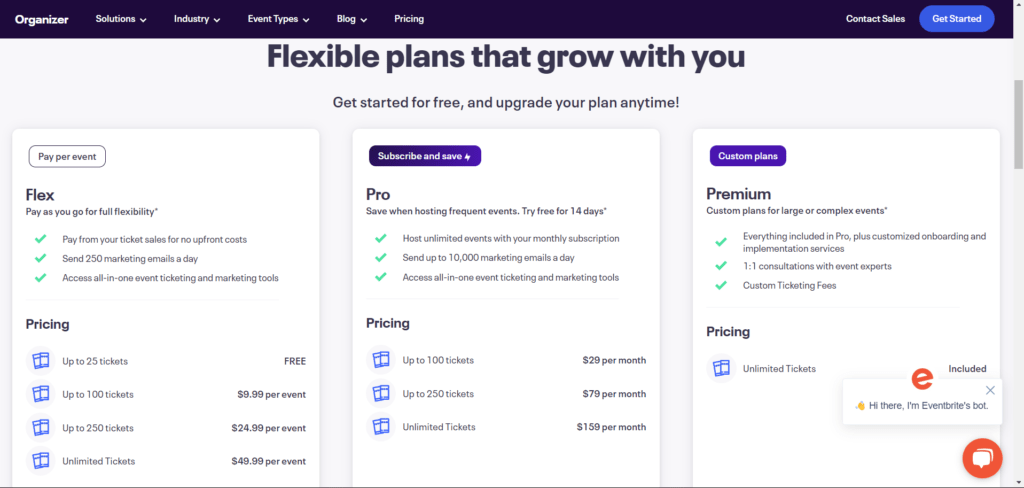 The cost of a paid plan depends on factors like the number of attendees you expect and the features you need. It's essential to consider your event's scale and requirements when choosing a plan.
Alternatives for Event Hosts With Smaller Budgets
We understand that not everyone has a big budget for event registration, and that's okay. Eventbrite's decision might not align with your current financial situation. Certainly!
Here's a list of popular online event registration and ticketing platforms similar to Eventbrite:
Meetup
Eventzilla
Bizzabo
Brown Paper Tickets
Cvent
TicketLeap
Splash
EventMobi
Ticket Tailor
Whova
Remember that each platform has its unique features and pricing, so take the time to explore and find the one that best fits your needs.
Tips for Transitioning to Paid Plans
If you decide to transition from Eventbrite's free plan to a paid one, here are some tips to make the process smoother:
Assess Your Needs: Understand your event's requirements and choose a plan that aligns with them.
Communicate with Attendees: Ensure you inform your previous attendees about the change in the registration process and any new features they can look forward to.
Budget Wisely: It is best to allocate a portion of your event budget to cover the registration platform's costs. Consider it an investment in the success of your event.
Take Advantage of New Features: Make the most of the enhanced features and tools provided by the paid plan to improve your event's overall quality.
Conclusion
Although change can be unsettling, In the grand scheme of things, Eventbrite's decision to end its free services is an opportunity to embrace something new and potentially better.
It's a strategic move aimed at improving the platform's sustainability and, ultimately, your event experience.
With enhanced features, improved user support, and a commitment to growth, Eventbrite is positioning itself to serve its users better. So, let's embrace this change with an open mind.
Explore the new options Eventbrite offers, weigh the benefits against the costs, and make an informed decision for your next event. After all, change can often lead to positive outcomes, and in this case, it just might make your event-hosting journey smoother than ever.
Cheers to the future of event hosting!
Related Articles:
We are sorry that this post was not useful for you!
Let us improve this post!
Tell us how we can improve this post?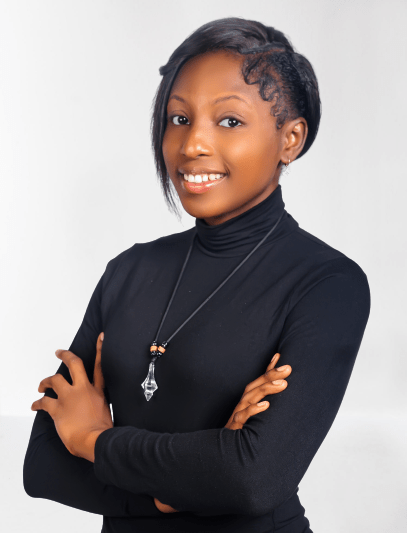 Helen is a down to earth bibliophile who loves to write when she isn't reading. She is geared toward making the world a better place by encouraging individuals to be self-aware, happy, and goal-oriented. She is a personal development advocate and mental health enthusiast.