Your billing system should adapt to your unique needs. Zoho Billing is here to make that happen.
Whether you're running a subscription-based business or one that focuses on one-time sales, flexibility is essential.
Zoho steps in with a user-friendly solution — It offers a comprehensive billing solution that empowers growing businesses with the flexibility they need to explore pricing and subscription plans suitable for their business.
We'll introduce you to Zoho Billing, highlight its key features, and compare it to its competitor, Stripe.
Let's begin!
The Evolution of Zoho Subscriptions into Zoho Billing
Zoho, a global technology company, recently unveiled Zoho Billing as an expansion of its existing application, Zoho Subscriptions. This evolution represents a strategic move to address the challenges that businesses of all sizes have been facing in the past decade.
When it comes to business models, businesses get creative. But they are often handicapped by the lack of flexibility of their back-end systems like billing platforms.

Raju Vegesna, Chief Evangelist at Zoho.
With the increase in subscription models, growing businesses have had to deal with managing recurring billing and tracking key metrics. Initially, Zoho Subscriptions was a solution to these challenges. However, with the changing landscape of business, billing demanded a more versatile and adaptable tool.
Zoho Billing supports a wide range of billing scenarios, including:
Subscription billing
One-time billing
Project billing
Expense billing
Metered billing
Consolidated billing
Raju Vegesna, Chief Evangelist at Zoho, underscores the importance of flexibility in the billing platform: "Whether a business goes with a subscription-based business model or a one-time billing model, the billing platform should adapt to that business, instead of the business adapting to their billing platform. This flexibility is where Zoho Billing stands out."
Key Features of Zoho Billing
Here are some of the key features of Zoho Billing:
User-Friendly Interface
Zoho Billing offers a user-friendly interface that makes managing billing tasks a breeze. This makes it easy to handle estimates, retain invoicing for advance payments, manage one-time or flat-fee billing, project billing, expense billing, or Quote-to-Cash (Q2C); Zoho Billing has you covered.
Product Catalog
Zoho Billing offers a clean user interface that allows you to customise your product catalog with ease. It enables you to create price lists and set custom pricing for specific customers and products. You can also create one-time, unlimited, or time-defined payments. This means you can adjust prices according to your marketing campaign.
Comprehensive billing capabilities
Zoho Billing offers a wide range of billing features to meet the needs of businesses of all sizes. It allows businesses to create and send estimates, invoices, and credit notes, track payments and receipts, and manage subscriptions. Zoho Billing also supports multiple currencies and payment gateways.
Subscription management
With Zoho Billing's subscription management features, businesses can automate their recurring billing and customer lifecycle management processes. Businesses can also create and manage different subscription plans, set up prorated billing, and track custom plans. Zoho Billing also allows you to track time spent on projects and bill your clients.
Compliance
Zoho Billing offers 13 country-specific editions to help businesses comply with regional tax regulations. Growing businesses can also configure Zoho Billing to meet their specific tax compliance needs.
Reporting and analytics
Zoho Billing offers over 50 reports to provide businesses with insights into their billing and financial performance. Users can track accounts receivable, cash inflow, recurring revenue, customer subscriptions, and other key metrics.
Mobile Application
To cater to the needs of businesses on the go, Zoho Billing provides a feature-rich mobile application available for both iOS and Android devices. Now, you can manage your billing operations from anywhere.
Benefits of Zoho Billing
Zoho Billing offers a number of benefits to growing businesses, including:
Flexibility: Zoho Billing is a flexible billing solution that can be adapted to meet the needs of businesses of all sizes and industries. Businesses can choose from a variety of billing features and capabilities to create a custom billing solution that works for them.
Ease of use: Zoho Billing is a user-friendly billing solution with a simple interface. Businesses can learn to use Zoho Billing quickly and easily without the need for extensive training.
Affordability: Zoho Billing is an affordable billing solution with a variety of pricing plans to meet the needs of businesses of all sizes. Businesses can start using Zoho Billing for free and upgrade to a paid plan as their needs grow.
Pricing
Zoho Billing is available for immediate use and offers four different plans to suit your business needs:
Standard Plan: Priced at $15 monthly, this plan is perfect for businesses just starting their billing journey.
Professional Plan: Priced at $39 monthly, this plan provides additional features for growing businesses.
Premium Plan: Priced at $79 monthly, this plan offers advanced capabilities for businesses that are expanding rapidly.
Elite Plan: Priced at $239 monthly, this plan is designed for large enterprises with complex billing needs.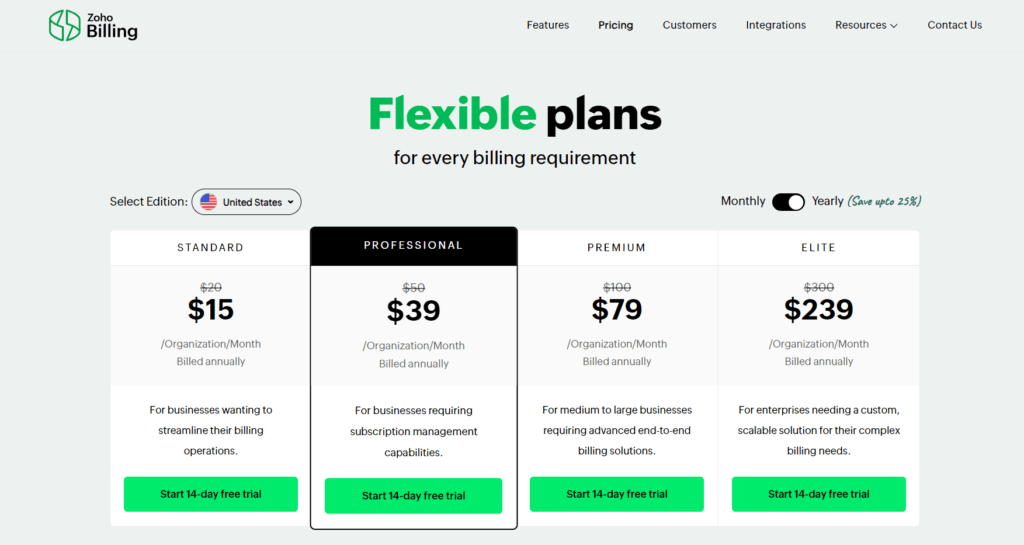 You can change the country to pay with the currency for your country. If you can't find your country, change the "Select Edition" filter to "Global" and get the rate for your country.
Conclusion: Zoho Billing is a powerful and versatile billing solution
Every growing business needs a billing solution that can adapt and grow with it. Zoho Billing is the answer to the challenges faced by businesses of all sizes, providing the flexibility to create and manage billings according to your preference.
Zoho Billing's evolution from Zoho Subscriptions represents a significant step forward in the world of billing and subscription management. With its user-friendly interface, comprehensive features, and integration capabilities, Zoho Billing is your partner in smooth billing operations.
You don't have to worry about your business size. Explore Zoho Billing and pick a plan that suits your budget and business needs. Good luck!
Related articles:
We are sorry that this post was not useful for you!
Let us improve this post!
Tell us how we can improve this post?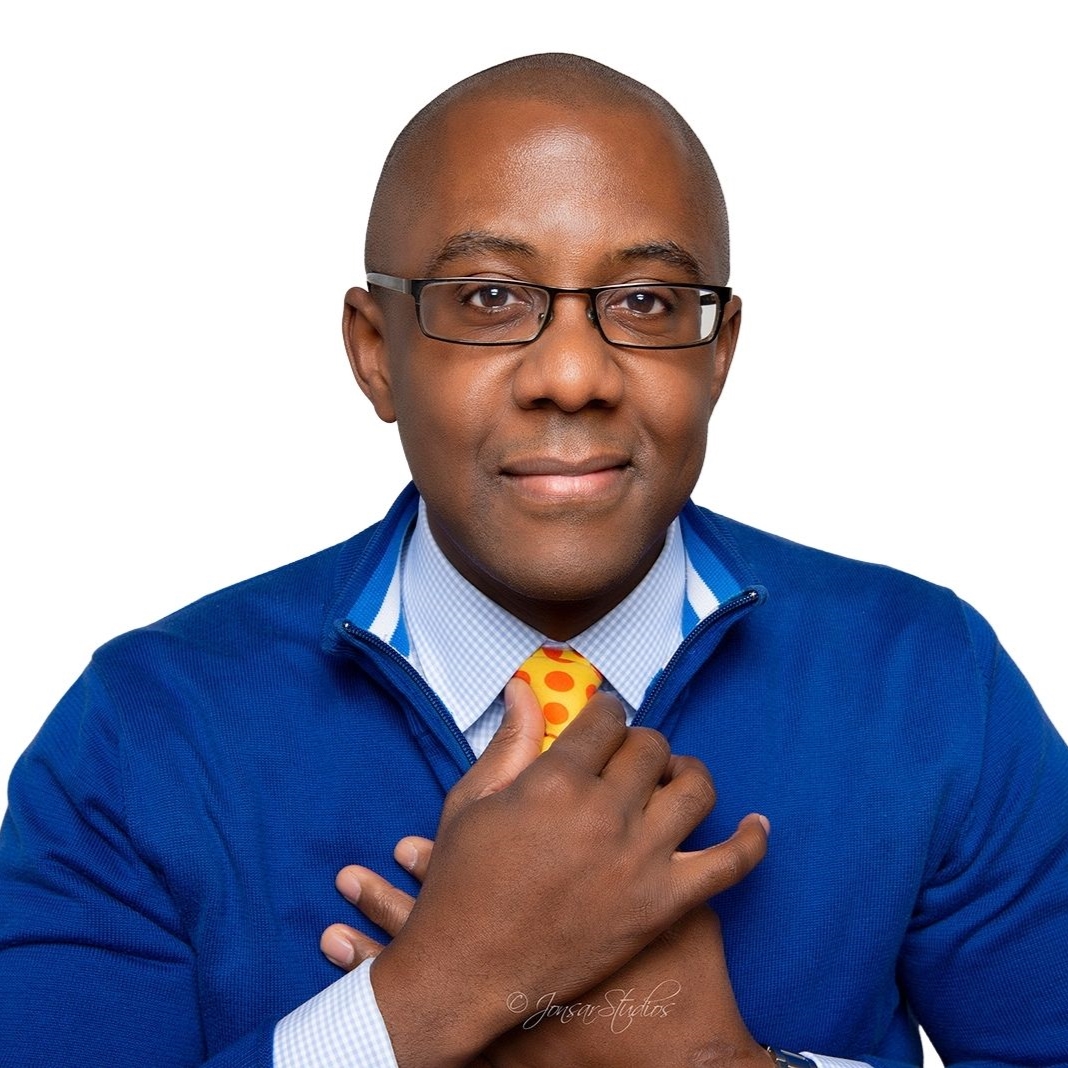 Ramon Ray is unapologetically positive. He's the publisher of Breakfast with Champions BWCDaily.com and ZoneofGenius.com Ramon's an expert in personal branding and founded Celebrity CEO™ focused on personal branding. He's a serial entrepreneur who's started 5 companies and sold three of them. Get to know him better at RamonRay.com