Outline: Duties and Responsibilities | Skills and Qualifications | How to Write the Job Description of a Business Manager – Note Your "Why" – Do a Quick Candidates Tour – Optimize – Company Profile – Benefits Package – Requirements and Skills | Things to Look Out | Final Thoughts
Creating a job description copy for a business manager isn't hard work, especially since tons of templates are available. What's difficult is getting the right job description ad that isn't vague or confusing to that top candidate you're gunning for.
Just like the Quartermaster or First Mate of a ship, the business manager is a professional that oversees the operations of the business, and assists in running the business while developing strategies to boost employee productivity and morale, ultimately fostering business growth.
Duties and Responsibilities of a Business Manager
A business manager's duties and responsibilities can go from performing routine tasks like monitoring daily sales to preparing reports for the management team. Here's a list of tasks commonly performed by managers:
Hire new staff and supervise employees
Acquire relevant resources (like equipment) needed for smooth day-to-day operations
Responsible for daily, weekly, and monthly accounting tasks and other financial reporting
Develops business goals and proactive strategies that drive profitability and growth
Conduct office meetings and often serve as the face of the company at events
Ensure that employees reflect company goals and values
Develop employee training programs on how to use the latest relevant software or tool needed for productive work
Develop work schedules for employees and may also determine their pay grade and when an employee is qualified for a raise or a bonus.
They address employees' complaints to HR while effectively communicating ideas and managing conflict between executives (or partners) and employees.
Ensure that clients, partners, vendors, or business associates have a positive experience with the company
Continuously assess the company's performance and develop ways to improve it. They also conduct performance reviews for employees.
Work with the company's budget to build the business and make a profit. Read our article on how you can save money for your business.
Ensure that the business and work facility complies with government regulations and guidelines
Ensure that there are no redundant business operations that do not contribute to maximum productivity
NB: Company size also influences the role description of the business manager job position. In small companies, business managers may find themselves grappling with the operations across all departments, but in big companies, they grapple with fewer departments.
Skills and Qualifications of a Business Manager
A good business manager effectively ensures that the employees they lead are productive, the business is thriving, and the executives and clients are satisfied. But to do this, they need the following:
Strong leadership and organizational skills
Good computer skills – should be able to navigate MS office tools, databases and information systems, and payroll tools
Excellent interpersonal and communication skills.
Analytical and problem-solving skills
Ability to develop proactive strategies that improve business growth
Good understanding of how different business department and operations works
B.Sc. in business management or related fields, M.Sc or MBA, might be necessary for more competitive roles.
Proven work experience in a managerial or related role that reflects their skills in business management, optimization, and staff management
Tip: You can consider a high school diploma for the business manager role if they have specific certifications or excellent work experience.
How to Write a Business Manager Job Description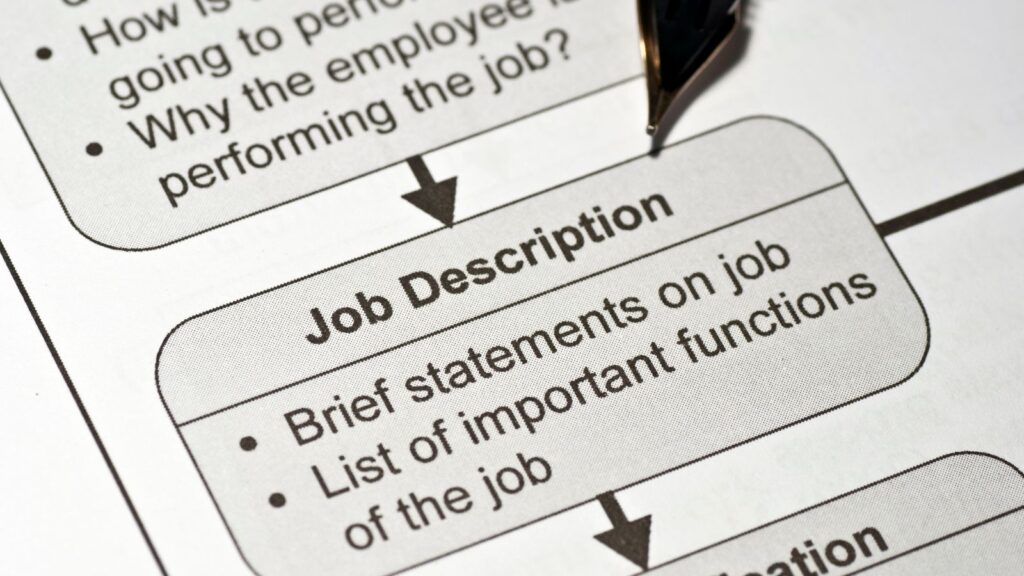 Knowing how to write a detailed job description for a business manager is vital if you desire to hire the right person.
A good job description that starts with you doing your research or appropriately answering the question, "why do I need a business manager?" will fetch you the top candidates in the market.
1. Note Down Why You Need a Business Manager
Concluding that you need a business manager means you must have penned down what tasks you need them to take charge of. But let's say you didn't; now is the next best time to write them down.
Remember that these tasks will ultimately fill the job responsibilities section in the job description ad. You can also take a look at the general duties of a business manager and see what other tasks are fitting for them as regards your business.
2. Take a Brief Moment and Check Out Your Potential Candidates
What will entice the right candidate for your business, and what working conditions/roles are ideal for them?
Take a brief moment and think about your target audience, and the person you want to interview and ultimately hire. You can begin again If the job ad you've drafted won't get you such a folk.
3. Optimize Job Title and Purpose
The competition is tough, there are tons of job ads, and your ad will never make it past the search filter if it's not well optimized for search – online search job platforms and Google.
So rather than being vague, aim for clarity and add a sentence (or a paragraph) after the job title that describes the job role.
4. Add a Brief Company Profile
Your business manager's job description must have a brief company summary that lets interested candidates know about your company and what it stands for.
Avoid doing a copy and paste of your about us website page. Use straightforward language to communicate what the business is about.
5. Highlight the Job's Benefits Package
Asides from earning an attractive salary, what else do they stand to gain? Here's where you talk about the compensation and perks of working in your company.
It's best to use bullet points so the candidate can easily focus on each of these benefits such as:
Competitive salary (clearly state what you're willing to offer), medical/dental/vision plan with 401(k) plan
The working conditions
On-site or hybrid work environment
Full-time or part-time
6. Requirements and Skills
What qualifications should the top talent possess? Clearly outline the required experience and education level your company is interested in.
Also, avoid using vague terms when outlining specific job roles. Be clear, realistic, and present the info with bullet points, not a huge block of text.
Things to Look Out for When Writing a Job Description
When writing a job description, remember that the quality of your job description might reflect significantly on your newly hired office manager.
This section explores some of the things you should look out for when writing one and some general tips on how to write a job description that attracts the right candidate.
As part of the talent acquisition team, here are what you must know:
1. The Quality of the Template
Though it's faster and easier to use a template for the job description of a business manager, it doesn't guarantee you quality candidates. It's always best to take your time and craft a job description that weeds out unqualified potential candidates.
A good template should serve as a guide lest you forget to include relevant details that attract suitable candidates. Avoid using generic or vague templates that don't allow the business to shine through them.
Here's a good example of a business manager job description template.
2. The Expectations Required From the Business Manager
Always speak with the person who needs the business manager most – the go-to person is most likely the hiring manager.
Thus before writing the job description, ensure that you're on the same page with the hiring manager or the person calling the shots. The expectations or duties should be tailored to the company.
3. Optimizing Your Job Description
The right candidate will never see the best job description for a business manager if it isn't optimized for online job search platforms or Google for Jobs.
Always include the relevant keywords your preferred candidate will search for and upload your job ads to well-known online job search platforms.
4. The Right Mix of Business Jargon
Avoid scaring off the right candidate using business terms only your company staff will understand.
Instead, use a healthy blend of business terminologies that attract your preferred candidate and leave out those who aren't qualified.
5. Others Include:
Describe job responsibilities with strong verbs
Avoid overwhelming the job description with too much personality – keep it formal and creative.
Do not use an existing job description in your company. Craft something new
Remove bias from your ad
Do not use exclusive or gendered language
Final Thoughts
The perfect job description copy for the position of a business manager screens out unqualified candidates and brings only the qualified ones to your interviewing room.
But to do this, you have to sit down, take your time, and craft a good copy that reflects what your business wants from a manager.
We are sorry that this post was not useful for you!
Let us improve this post!
Tell us how we can improve this post?
Naga Odigie fancies herself as an ex-tea addict. When she's not indulging herself in creating good blog content, she's obsessed with the wonders of the brain and can't wait to do a Master's in Psychology (Behavioural Neuroscience). Find more of her works on wetinndotcom